Turtle Bay Exploration Park, Redding
MDG was hired to work with the Turtle Bay Exploration Museum and Forest Camp to make the Paul Bunyan Camp more exciting for kids of all ages. With limited areas to work in, MDG designed two main play spaces for different age groups that also tied into the surrounding landscape.
Those spaces are Babe's Corral, which is for five and under, providing interactive play, native creatures and outdoor learning. The High Climbing Adventure, which is for teenagers, features a zip-line, long winding rock wall, three tier play tower and an 80' long slack line. Our goal is to attract the teenage population that is currently looking for risky play. We have created a real challenge with this park.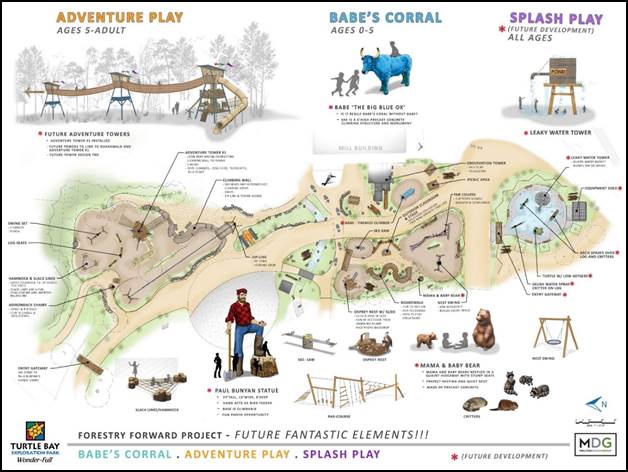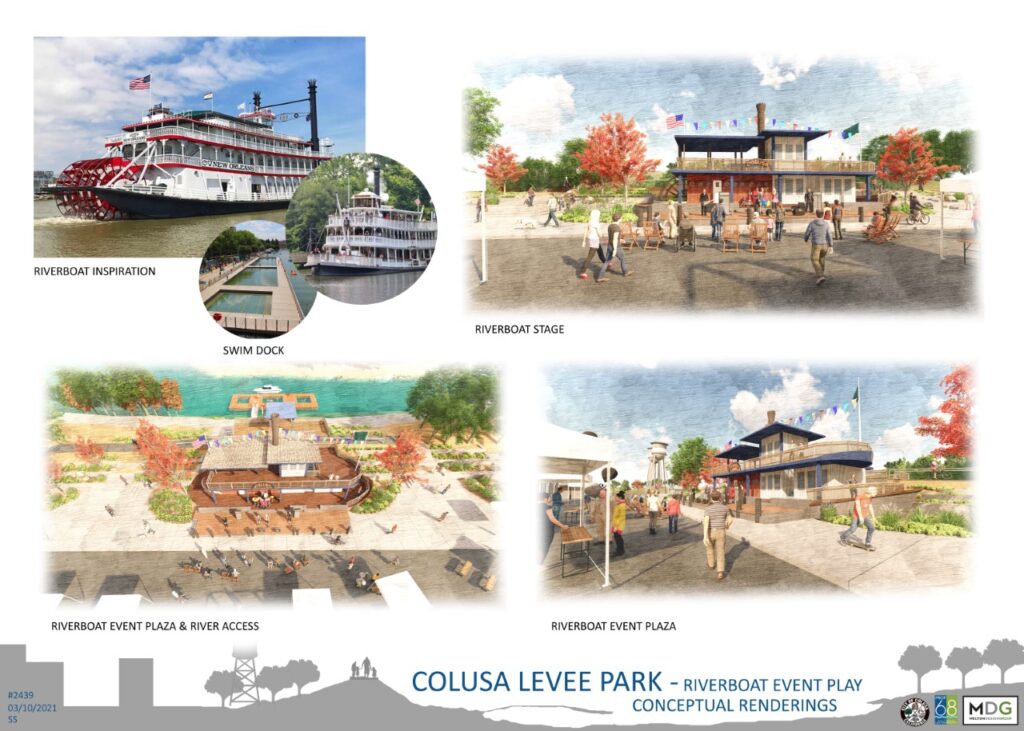 Colusa Levee Park, Colusa
The design included: the addition of an old YMCA property to the existing park; renovation of the combined space to convert turf areas to drought tolerant landscape; turning an old tennis court into pickle ball courts and the addition of a restroom, futsal / basketball courts, exercise stations, playgrounds, a community plaza and shade structures. MDG services included Master Plan, Public Outreach, Construction Documents and Bid and Construction Administration. When the park opened, it was instantly a big hit with the community, especially the playground. With the reduction in unused turf areas, the District is saving largely on the water and maintenance costs.
This project was designed for multiple uses. Radial paths allow the public to journey through the rose garden and serve as grounds for seating during events and weddings. The layout promotes circulation and easy viewing of events from any location on the site. In an amphitheatre/ park settings the roses are in rows and plots of varied colors. Although the fence and native perimeter planting surrounds the garden, it doesn't interrupt the view to the creek and Bidwell Park. Golden decomposed granite walkways separate rows of roses that can host chairs, and there is even plenty of room for a band, tables or more chairs throughout the venue.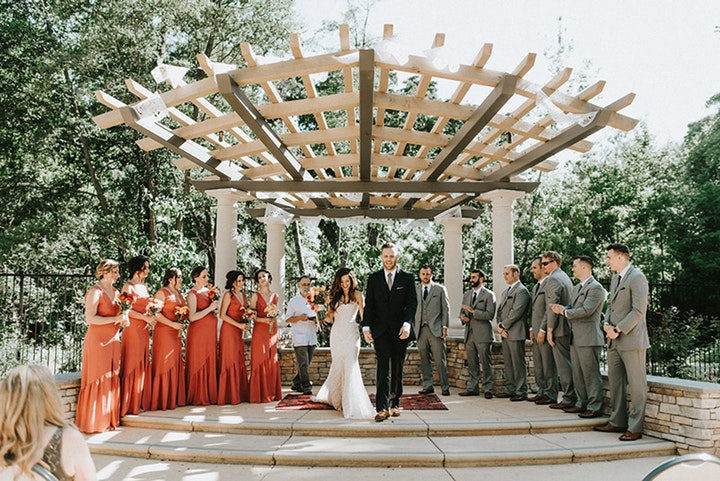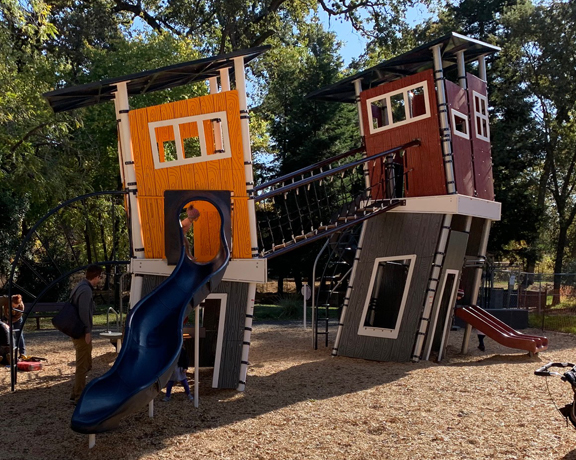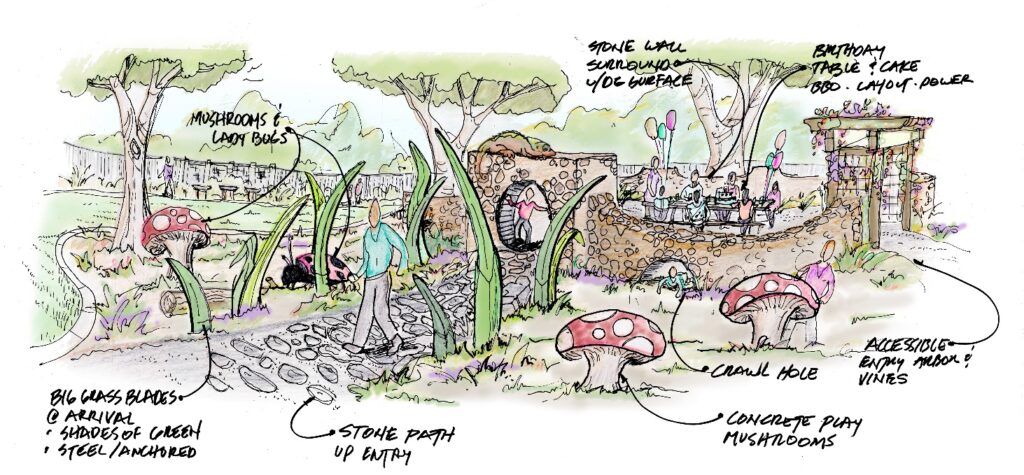 A nursery rhyme-themed community park; Caper Acres has been an icon for residents of Chico since its installation in 1962. Our work on this project included facilitating public engagement, creating a restoration master plan, cost estimate, renovation construction drawings, managing volunteer groups, and the construction with Rotary.
The following are a few most relevant improvements:
The Crooked House Play Structure, Nursery Rhyme Theme.
Rock Climbing feature to replicate canyons in upper Bidwell Park.
Zip Line into the new Robin Hood's Lair, based on the 1938 filming of The Adventures of Robin Hood with Errol Flynn in Lower Bidwell Park.
Interactive and Educational Play Elements designed along perimeter paths with Humpty Dumpty as the park mascot.
2006 The Nico Project in memory of Nico Cardoza. The play area features a shipwreck play structure on a sandy island surrounded by oceans patterned fall material and a colorful serpent.
2017/2018 Contract for Lead Design and Management of Volunteer Groups for Entry Bridge and Swing Set Complex Renovation.
2020 Renovation of Nico Memorial surfacing and addition of shade sails. 
Avie's Place is being built in memory of Avalynn Wallace, daughter of Louie and Nicole Wallace. Avalynn was called to heaven in October 2019 at the age of seven following a grueling three-year-long struggle with AML (Acute myeloid leukemia). Her strength inspired the Wallace family and our entire community to create Avie's Place.
VISION: There are NO OTHER parks in the 22-County region north of Sacramento (representing 42,000 square miles and 1.7 million people) that have been purpose-built for use by children with intellectual and developmental disabilities. Avie's Place is a unique opportunity for renewal and improvement across Oroville, Butte County, and our surrounding region. Once completed, the project will: deliver ongoing recreation, fitness, and active-living opportunities to all children (as well as seniors, veterans, and other adults with restricted mobility) raise the quality of life in our community and act as a symbol of what can be accomplished through a community-focused partnership.