The project is a 1.4-acre planned park and riparian edge restoration project on West River Street in downtown Truckee, CA.

The project goals included the following:
Provide a passive park with public river access


Restoration of riparian edge with native plantings

Education and interpretative panels

Public open, social space


Riverfront access & activated riverfront play

Multi-Use Site

Park Facility

River-oriented commercial

River Access

Stormwater Treatment

Connectivity

Expansion of Downtown

To Legacy trail bridge & trail

To Downtown core and to natural open space & river

Greenhouse benefits – air, habitat and water quality

Catalyst for riverfront development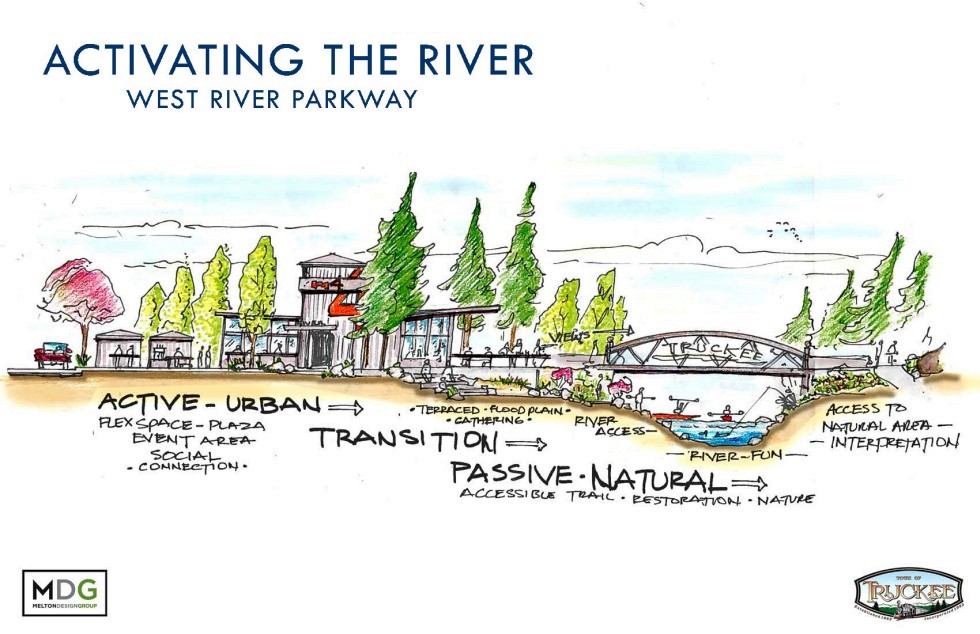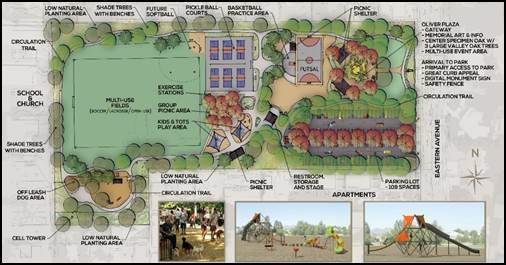 Eastern Oak Park, Sacramento
The design included: the addition of an old YMCA property to the existing park; renovation of the combined space to convert turf areas to drought tolerant landscape; turning an old tennis court into pickle ball courts and the addition of a restroom, futsal / basketball courts, exercise stations, playgrounds, a community plaza and shade structures. MDG services included Master Plan, Public Outreach, Construction Documents and Bid and Construction Administration. When the park opened, it was instantly a big hit with the community, especially the playground. With the reduction in unused turf areas, the District is saving largely on the water and maintenance costs.
DeGarmo Park is a 36-acre Sports Park Master Plan. We completed both phase I and phase II construction documents and construction administration. The Gailey Luther DeGarmo park site was previously owned by the DeGarmo family. MDG captured the history of the site in barn-styled shade structures and a barn-red color theme. Decorative steel rails were designed throughout the park to represent local butte bluffs, rice fields and orchards.
Phase 1 developed 10 acres including: a parking lot with a bio-filtration system; multi-use athletic fields – two soccer and three softball; a picnic shelter and restrooms.
Phase 2 developed 12 acres with additional parking, two soccer fields, a playground and a group picnic area. With all of the completed phases, the park covers 36 acres. The sports theme of the park provides opportunities for both kids and adults to get into the fun and unite with healthy competition.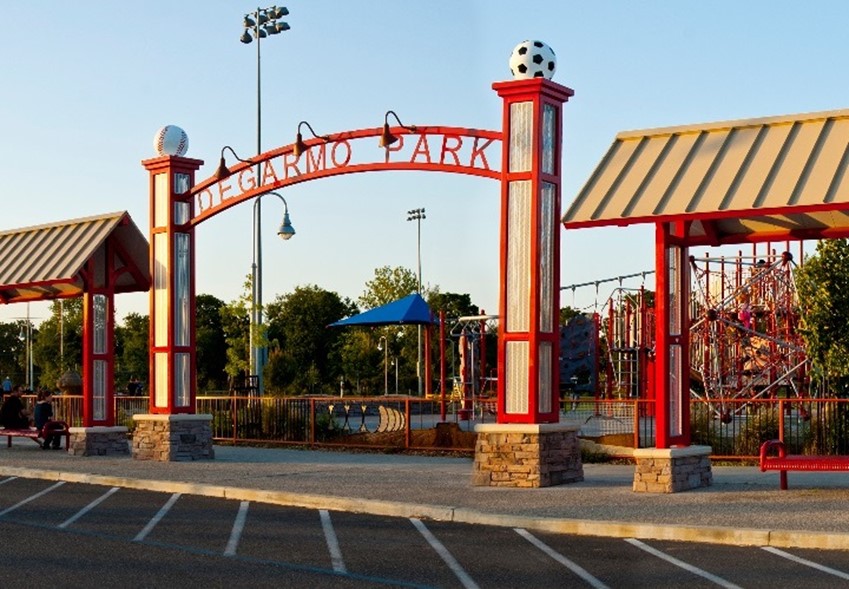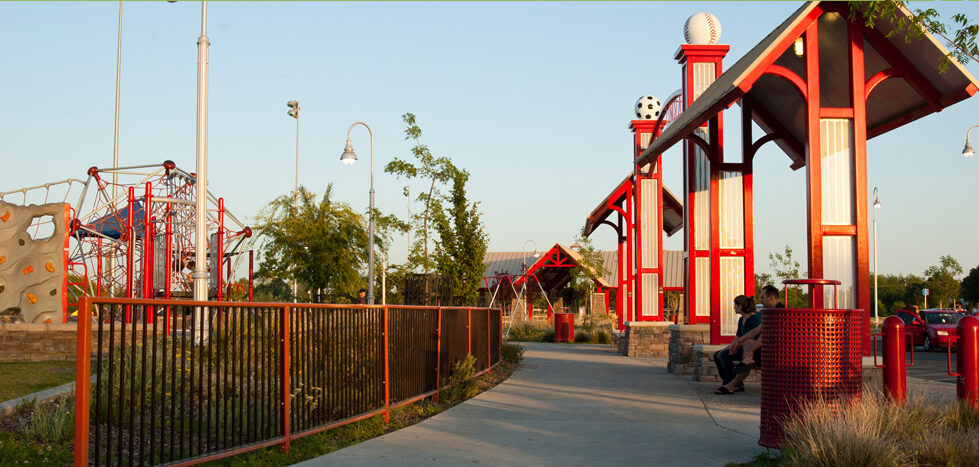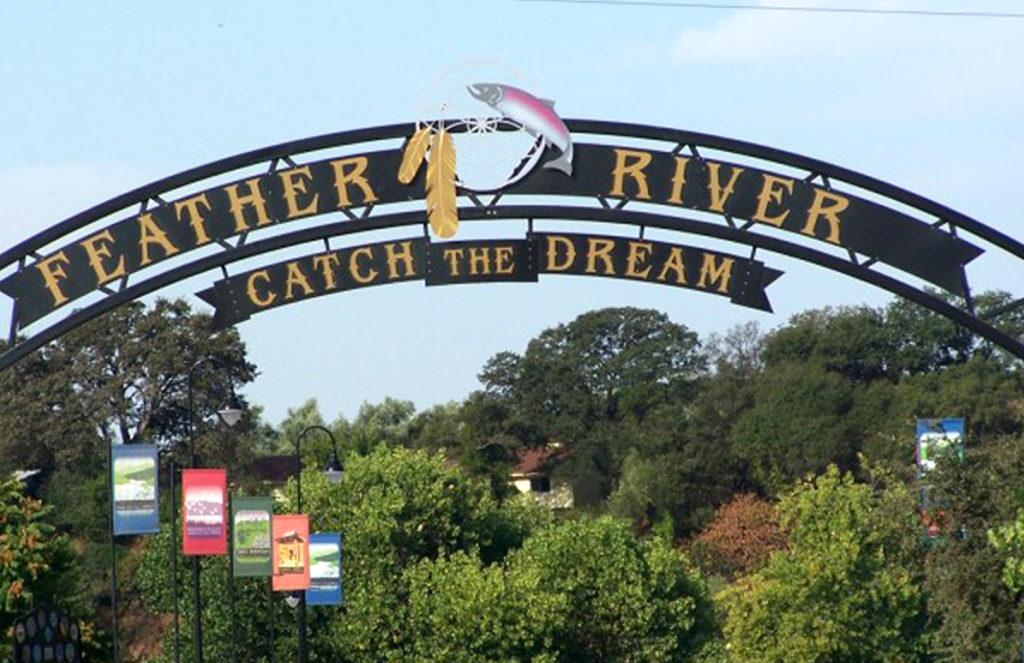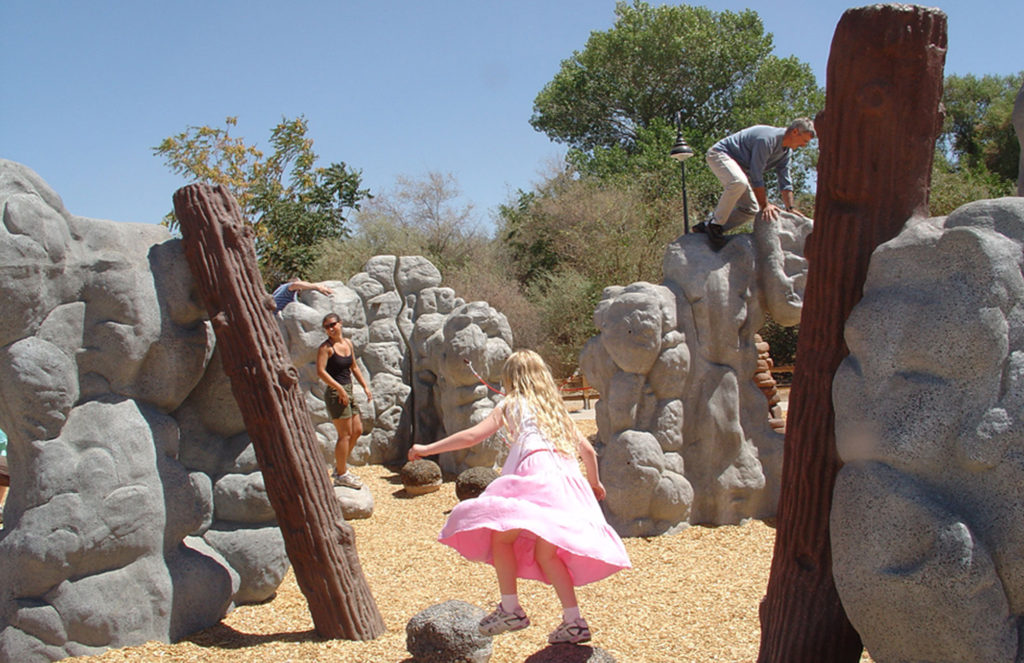 WINNER OF THE 2021 CPRS DESIGN EXCELLENCE AWARD FOR PARK PLANNING
Riverbend Park included Riverfront Park Renovation, Master Plan design through Construction Administration. Also, the facilitation and collaboration with the recovery funding and clean-up efforts by managing CAPRI insurance, FWS and FEMA claims, while working with DWR, CCC and the Spillway Contractors to help clean up the site.
This 120-acre Park in Oroville, CA that sits on the Feather River was developed in 2003 by MDG and was completely flooded in 2017 when the Oroville Dam Spillway failed. Since then, MDG went through Phase 1 and Phase 2, where we installed a new amphitheater that will withstand any flood, as did the structures of 2003.
The two phases cover approximately 36 acres and include the following:
new boat launch
new beach/waterfront
picnic and play
dog park renovation
new amphitheater with shelter
play structure repair
water play area
three multi-use sports fields
boulder climbing structures
disc golf course
In 2018, MDG began work with the City of Fresno to create a Master Plan for the newly proposed Quigley Community Park. Through community workshops and public outreach, we were able to clarify the needs of the local community and evaluate park features and layout.
The process was tailored to meet as many of the Proposition 68 grant requirements as possible and focused primarily on the following elements:
Leading Outreach and Community Planning events using local organizations such as CNC. Meetings were spread throughout the design process to provide multiple times and locations for the public to provide design input.
Creating impactful gathering areas and designing the park to meet the themes of "Community" and "Family" while providing play, education and socialization for all ages with inclusive design.
Providing a sustainable design including water saving, turf reduction, carbon sequestration with tree planting and use of Bio-carbon in the soil. (LEED Certification and SITES Initiative)
Aided in the CCNR Grant Program (Prop 68) and Prop 84 Grant Program processes.
Preparing cost estimates to meet the grant maximum and phasing as needed for the project.